Inspire Week Reflection
Monday:
Career Interests
What career clusters did you identify?



The career clusters I identified with were Investigative, Artistic, and Social.
2. Which one was the most surprising and why?
I didn't really find any of the career clusters I got too surprising. I have an interest in all of these things.
3. Which career cluster are you most interested in, and why?
The career cluster I have the most interest in is Artistic. I really like performing arts and music and I think it's really interesting I got a higher score on Artistic rather than like realistic.
4. What kinds intelligences, skills, jobs, and training does that career cluster entail?
The career cluster, Artistic, entails that that someone is frequently working with forms, designs, and patterns. It also says that they require self-expression and the work can be done without following a clear set of rules.
Tuesday:
Service Project Preparation
What does your service organization do?



My service organization is at the library. For the next two days, we will come up with a quick, thoughtful strategy to make sure everyone has a job to do in order to get books moved over and organized from Fiction, mystery, and Science fiction, still remaining in alphabetical order.
2. What needs do they fill our purposes do they serve?
The purpose that this service fills, is helping the library move their books into a more organized system to help find books.
3. What does your service organization need from you?
My service organizations needs me to be on top of my game, willing to help with anything, and ready to pay attention and make the most of it.
4. How will your team's project add value for their organization?
Our team's project will add value by making it more organized and easier for the co-workers and civilians to find books.
Thursday and Friday:
What happened today?



On Thursday, we had our last day of community service. At the library, we continued with taking books off the shelves, putting them on carts, and taking them to Sage and Cat so they could re-shelf them. By the end of the day, we had about 10,000 books that we were able to re-shelf out of 18,000.
On Friday, we went to different classes and showed other students what we learned and how we did the process we went through during the two days of community service.
2. How did you work together as a team?
On Thursday, I saw a lot of teamwork everywhere throughout our section of the library. Jess (our supervisor), Mackenzie, and Delaney were working on taking books off the carts, still keeping them in order, so that Xavier and I could have carts to get fiction books off the shelves and give them to Cat and Sage. Cat and Sage were re-shelving books where the librarian wanted them to go. Kai, Riley, and Greg were working on moving the mystery and Sci-Fi over to empty shelves, so they wouldn't get in the way.
3. What did this make you think about your community?
This made me think that there are some people that are willing to help businesses, such as the library, with something they wanted to do or needed to do. Doing the community service project, made me want to stay there longer, and get the job done. Not only did it open my eyes that there are places in the community that could use our help, it also made me realize that helping someone makes me feel better about myself.
​
Powered by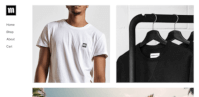 Create your own unique website with customizable templates.